Technical Data:
● Head: 10" stainless steel
● Eye Wash Nozzle: ABS spraying with 10" ABS waste water recycle bowl
● Shower Valve: 1" 304 stainless steel ball valve
● Eye Wash Valve: 1/2" 304 stainless steel ball valve
● Supply: 1″ MNPT
● Waste: 1″ MNPT
● Eye Wash Flow ≥11.4 L/Min, shower flow≥75.7 L/Min
● Hydraulic Pressure: 0.2MPA-0.6MPA
● Original Water: Drinking water or filtered water
● Using Environment: Places where has hazardous substance splashing, such as chemicals, hazardous liquids, solid, gas and so on.
● Special Note: If the acid concentration is too high, recommend to use 316 stainless steel.
The eye wash & shower is made of high quality 304 stainless steel.
Can install anti-scalding device to avoid the media temperature is too high in the pipe after the sun exposure and cause user scalding. The standard anti-scalding temperature is 35℃.
● Standard: ANSI Z358.1-2014
The main body, foot pedal and base of the eyewash are made of 304 stainless steel. This eyewash uses foot pedal to supply water. After use, the water supply will stop after the foot leaves the pedal, and the water in the eyewash pipe will be automatically emptied, which will play the role of antifreeze for the outdoor eyewash in winter.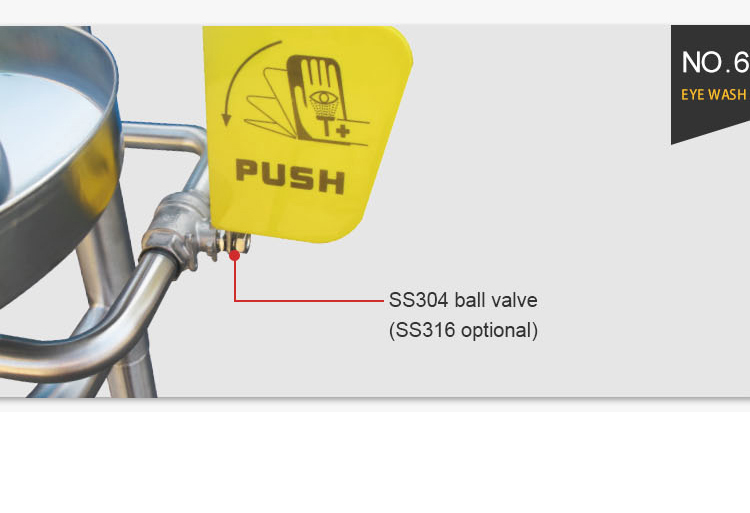 .